Activities around the Alpujarra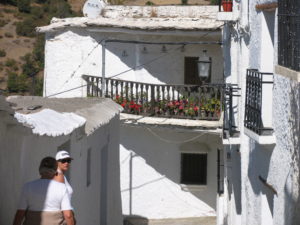 Staying in one of our hotels or village houses is not just about rest and relaxation. We offer a wide range of leisure activities for your holidays. Consult us to find out more.
In Capileira you will be able to play any kind of outdoor sports. The environment around us is unique and offers many possibilities for nature lovers. If you are looking for fun and entertainment, this is the place!
Some of the sports that you can practice here are:
Hiking
Get lost in the many local trails that cross the Poqueira Valley and enjoy unforgettable landscapes and remote spots. We will recommend the most suitable for yourself, friends and family. For more information, please visit this page of the Capileira City Council (in Spanish).
You can also walk the two long-distance paths that pass through our valley:
GR-240: Sulayr. Information: Andalusian government o  Andalusian Federation of Mountaineering (in Spanish)
GR-7 E-4: European trail Tarifa-Peloponnese. Information on: Andalusian Federation of Mountaineering (in Spanish)
Mountaineering
Imagine the potential that a mountain such as Sierra Nevada provides, a National Park and Biosphere Reserve by UNESCO. It is a paradise for nature lovers, its large number of endemic biodiversity of flora and fauna makes it a unique mountain in the world. And Capileira is one of its natural portals!
In the high peaks of the Sierra Nevada you can enjoy trails of all grades of difficulty and the numerous lakes. Whoever visits our mountains does not leave untouched by them. Note that in winter you will need good equipment and experience of winter mountaineering to enjoy the mountains safely. But in summer the Sierra Nevada is accessible to all visitors.
Climbing
In the Poqueira Valley there are several ways open for those who love this sport, where you will get unprecedented views from them.
Canyoning
In the area there are several rivers appropriate for this that will delight the more adventurous visitors. Our ravines are sporty and fun. Rivers such as the Bermejo, Poqueira and the always difficult Trevélez are just waiting to be gone down. But note that if you are inside the Natural Park limits you must request the necessary permission.
Mountain Bikes
Another popular activity in the area is mountain biking, but be aware that we are in a mountainous landscape, dominated by slopes. You can also bike the newly created Transnevada cycling route.
Horse riding
Our area is also ideal for learning to ride and for horse riding. Choose from several local companies that have extensive experience.
Tours in 4×4
Meander through the numerous forest tracks of our valley to discover unique and solitary places.